Lincolnshire Tofu Sausage Breakfast
Serves 2
40 mins
Easy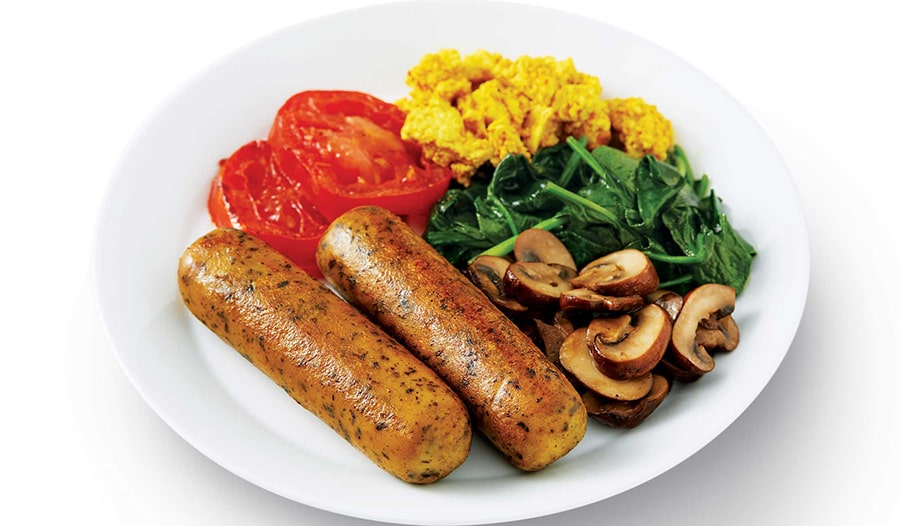 Ingredients
Main Ingredients
1 pack Clearspot Lincolnshire Tofu Sausages
2 ripe tomatoes, halved
6 chestnut mushrooms, sliced
200g baby spinach
Bread of your choice for toast
For the Scrambled Tofu
1 block Clearspot Original Tofu, crumbled
1 tbsp turmeric
Splash of cashew milk
Salt & pepper
Method
1. Preheat grill to a medium high heat.
2. On a baking tray place your Lincolnshire sausages and brush all over with a little oil, place the halved tomatoes on the baking tray and grill according to pack instructions, turning the sausages a couple of times while they cook.
3. Add your crumbled tofu to a bowl and add the turmeric, cashew milk and a pinch of cayenne pepper, season and gently mix well.
4. Heat a small frying pan to a medium, high heat, add a splash of olive oil and add the mushrooms. Once the mushrooms are gaining colour remove from the frying pan to the tray of tomatoes and sausages and continue to cook under the grill for five more minutes.
5. Heat a small saucepan to a medium, high heat and add the tofu scramble and heat whilst stirring.
6. Put your toast down in the toaster.
7. Now add the spinach to the frying pan with another splash of olive oil and wilt whilst stirring.
8. Time to serve. Butter your toast and on plates add the Lincolnshire sausages, mushrooms, grilled tomatoes, spinach and scrambled tofu.