Silken Tofu Creamy Mushroom Pasta
Serves 4
40 mins
Easy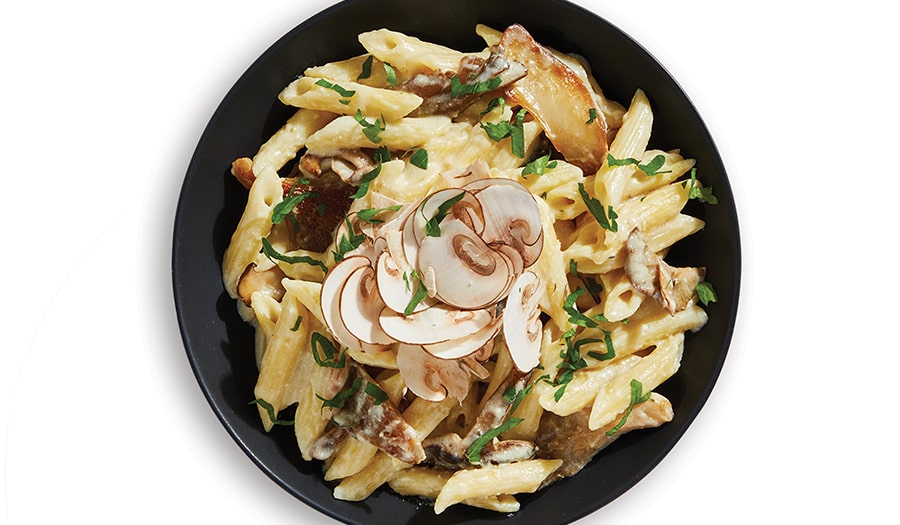 Ingredients
Main Ingredients
250g penne
1 pot Silken Tofu, drained
40g cornflour
2 tbsp nutritional yeast
1 tsp salt
1/2 tsp black pepper
50g vegan cream cheese
150ml unsweetened soya milk
100g mixed mushrooms
2 mushrooms, very thinly sliced to garnish
2 tbsp flat leaf parsley, chopped
Method
1. In a saucepan of salted boiling water, cook the penne pasta according to the packet instructions.
2. In another saucepan, add the drained Silken Tofu give it a whisk to break the Tofu up. Add the soya milk, reserving a little to mix with the cornflour into a paste. Add the paste to the pan and continue to whisk.
3. Add the cream cheese, nutritional yeast, salt and pepper, combine well. Reduce the heat to a simmer.
4. Add 2 tbsp of olive oil to a frying pan and fry the mushrooms for a few minutes or until golden brown.
5. Drain the penne, allowing a little of the cooking water to stay with the pasta. Add the pasta to the silken cheese sauce, followed by the mushrooms.
6. Serve into pasta bowls and garnish with the fresh thinly sliced mushrooms and chopped flat leaf parsley.