Slow Cooked Tempeh Chilli
Serves 4
95 mins
Medium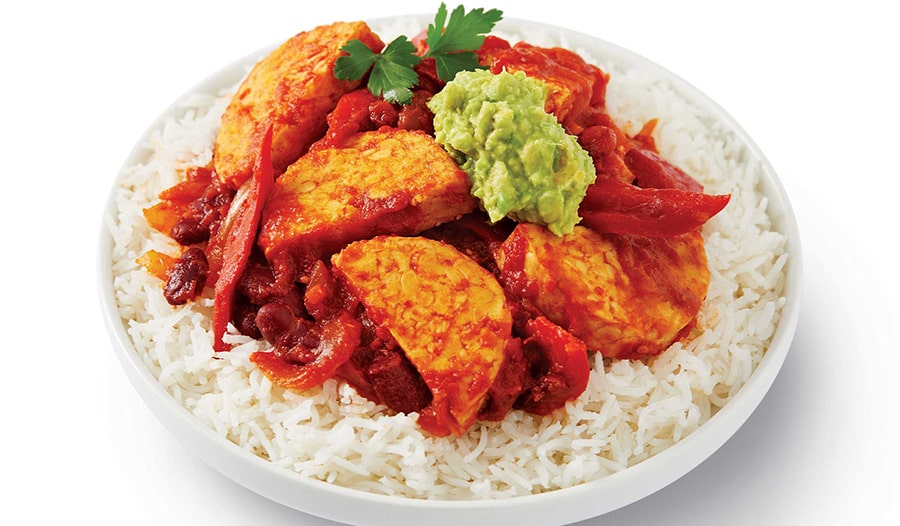 Ingredients
Main Ingredients
1 block Clearspot Tempeh
400g tin chopped tomatoes
200ml tomato passata
2tbsp tomato purée
3 tbsp red wine vinegar
150ml vegetable stock
2 fresh red chillies, deseeded and finely chopped
1 large onion, chopped
2 fat garlic cloves, thinly sliced
1 tsp dried chilli flakes
2 red peppers, deseeded and chopped into large pieces
400g tin kidney beans, drained and washed
1 dash of Worcestershire sauce or soy sauce
1 chunk of Parmesan rind (optional)
Olive oil
2 mugs of long grain rice
2 avocado
2 tbsp of lime
1 tbsp sweet chilli sauce
Salt & freshly ground black pepper
100ml sour cream (optional)
Method
1. In a large saucepan soften the onion and garlic on a medium heat and allow to slightly gain some colour. Add the chopped red chilli, season and cook for 1-2 minutes more.
2. Turn up the heat slightly and add the tomato purée stirring constantly until it begins to catch on the bottom of the pan, deglaze with the red wine vinegar and add the tinned tomatoes breaking them up slightly. Now add the passata, vegetable stock, dried chillies, Worcestershire sauce and parmesan rind (if using), stirring occasionally. Leave to simmer for at least an hour.
3. Cut the Tempeh into 2cm x 2cm pieces. Once the chilli has reduced significantly add the red kidney beans, red peppers and Tempeh, stir and simmer for a further 30 minutes. At this point taste the sauce and add another finely chopped red chilli if desired for the right amount of heat.
4. In a pan of boiling water add the rice and simmer on a low heat for 12-14 mins.
5. Meanwhile stone and peel the avocado and crush with the back of a fork. Add the lime juice and sweet chilli sauce, season and set aside.
6. Serve the Tempeh chilli on top of rice in bowls and top with a spoonful of guacamole and sour cream, a good grating of cheese and a few twists from the pepper mill (Whilst your serving up look out for the Parmesan rind and discard).