Teriyaki Tofu
Serves 2
45 mins
Medium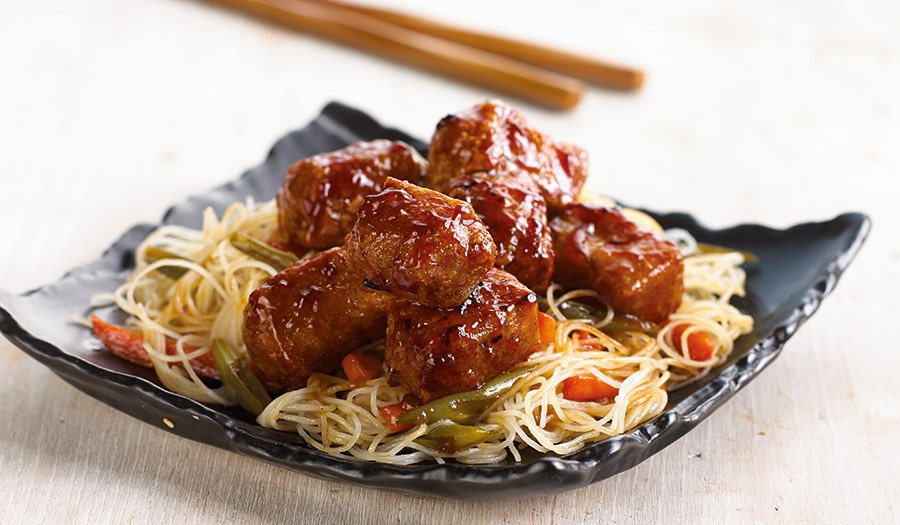 Ingredients
Main Ingredients
190g Clearspot Marinated Tofu
150g green beans
100g carrots
Small red pepper
2 tbsps toasted sesame oil
3 tbsps cornflour
1 tbsp cornmeal
1/2 tsp salt
1/4 tsp pepper
For the sauce
1/4 cup light soy sauce
1 tbsp finely chopped ginger
2 tbsp brown sugar
1 tbsp honey
1 tbsp cornflour
1 tbsp Teriyaki Sauce
1 tbsp finely chopped parsley
Spring onion
Oriental style noodles
Method
1. Preheat oven to 200°C.
2. Mix the marinade ingredients together in a bowl and toss in the tofu pieces. Set aside to marinate for 10-15 mins.
3. Drain the tofu and dry thoroughly.
4. Mix the cornflour, cornmeal, salt and pepper in a bowl and set to one side.
5. Cut the tofu into cubed pieces and toss them in the dry flour mixture until well coated. Place on a parchment lined oven tray.
6. Bake for 25-30 minutes, turning the pieces occasionally to ensure even cooking.
7. In a small bowl add the sauce ingredients, mix well and set to one side.
8. Cook the noodles as per the instructions on pack. Drain and set aside.
9. Heat a wok and add the sesame oil for cooking. Add the vegetables and cook on a high heat stirring continuously until soft. Add the sauce mixture and continue to stir until the sauce thickens.
10. Add the Tofu and mix well to coat with the glaze.
11. On a plate, arrange the noodles and add the stir fry on top. Garnish with parsley and spring onion greens.
12. Serve immediately.