Silken Tofu Mac & Cheese (3 Ways)
Serves 3
60 mins
Easy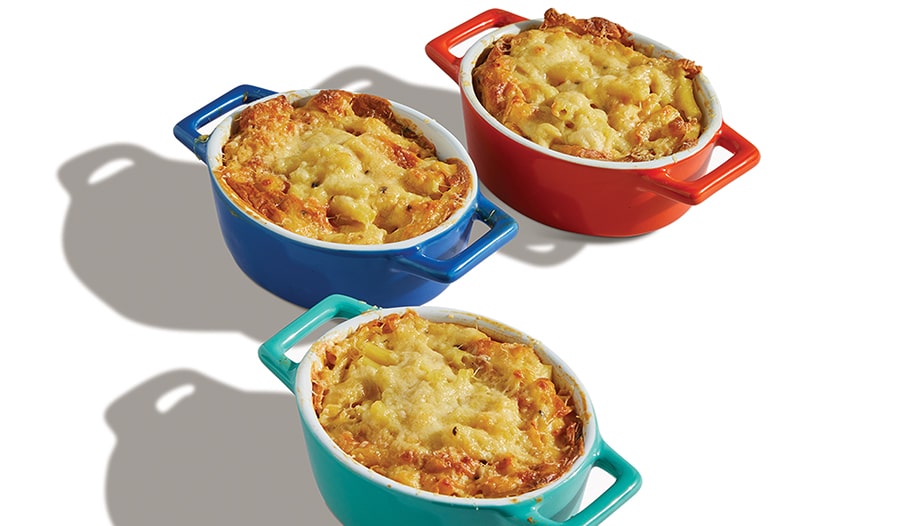 Ingredients
Main Ingredients
500g macaroni
250g Silken Tofu
100g vegan cream cheese
200ml unsweetened soya milk
160g vegan cheddar, grated
1 tsp salt
2 tbsp nutritional yeast
1 tbsp Dijon mustard
1 tsp cracked black pepper
Pickles Topping
100ml distilled vinegar
2 tbsp caster sugar
1/4 cucumber thinly sliced
1 red onion
5 thinly sliced radish
Garlic mushrooms & thyme Topping
100g chestnut mushrooms
1 garlic clove, sliced extremely thin
1 tsp chopped thyme
Olive oil
Crispy onion topping
1 white onion, cut into thin rings
100g seasoned plain flour
1/2 tsp table salt
Pinch of paprika
Oil for frying
Method
1. Preheat the oven to 190°c.
2. For the Pickle topping: add all of the pickles ingredients to a mixing bowl and set aside.
3. Bring a large pan of salted water to the boil and add the macaroni. Simmer for 18 mins or until cooked.
4. In another saucepan and on a medium heat add the Silken Tofu, soya milk, grated cheese and cream cheese. Whisk the mixture until combined then add the Dijon mustard, nutritional yeast, and some salt and black pepper. Continue to cook whilst stirring constantly until the mixture is smooth. Set aside.
5. Mix the cooked macaroni with the silken cheese sauce and portion into 3 small oven proof dishes (or one large one). Bake for 20mins or until golden on top.
6. For the Crispy Onion topping: In a small frying pan add 2cm of vegetable oil and bring to a medium heat. In a bowl, mix the paprika with the flour and season with salt. Coat the thinly sliced onion rings with the flour and fry in batches until golden brown dry on kitchen roll.
7. For the Garlic Mushroom topping: Add the sliced mushrooms, garlic, oil, thyme and salt to a small, non-stick pan and cook until golden brown.
8. Serve the Mac n cheese with the topping of your choice.