Miso Smoked Tofu with Roasted Garlic and Butternut Squash
Serves 4
45 mins
Medium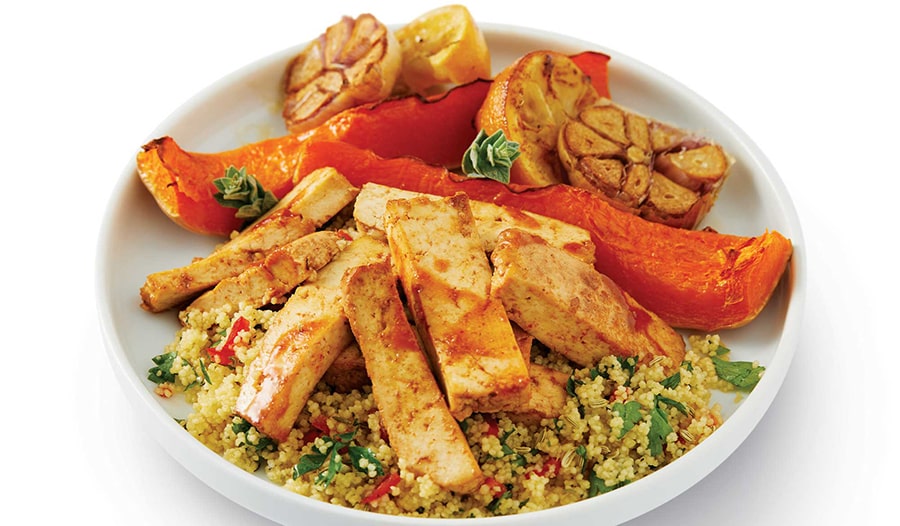 Ingredients
Main Ingredients
1 block Clearspot Smoked Tofu
1 butternut squash, cut into 8 pieces and seeds removed
2 garlic bulbs, halved
2 lemons, halved
1 red chilli, finely chopped
1 small bunch of flat leaf parsley, roughly chopped
400g couscous
Olive oil
For the Miso Glaze
1 tsp organic white miso
3 tbsp soy sauce
1 tbsp sriracha sauce
1 tbsp rice wine vinegar
2 tsp brown sugar
4 tbsp hot water
Method
1. Pre heat the oven to 190°c.
2. In a tall sided baking tray put in the butternut squash wedges, garlic and lemon halves. Drizzle with olive oil and season well, bake in the oven for 25 mins.
3. Add the couscous to a mixing bowl, boil the kettle and cover the couscous with the boiling water. Cover with cling film and put to one side.
4. Cut the Smoked Tofu block into three lengthways and then into thin strips. In a mixing bowl add all of the miso glaze ingredients and whisk until smooth. Add the strips of tofu to the glaze and mix.
5. Heat 3tbsp olive oil in a frying pan and lay in each piece of tofu, reserving the rest of the glaze to finish the dish. Fry for 4-5 mins each side.
6. Meanwhile remove the cling film from the couscous and with a fork separate the grains. Add a good dash of olive oil and the chopped red chilli and parsley and toss well.
7. On warm plates serve the couscous, 2 pieces of the butternut squash and a few roasted garlic cloves. Squeeze the roasted lemon over the couscous and divide out the tofu. Spoon over more of the miso glaze onto the tofu garnish and enjoy.