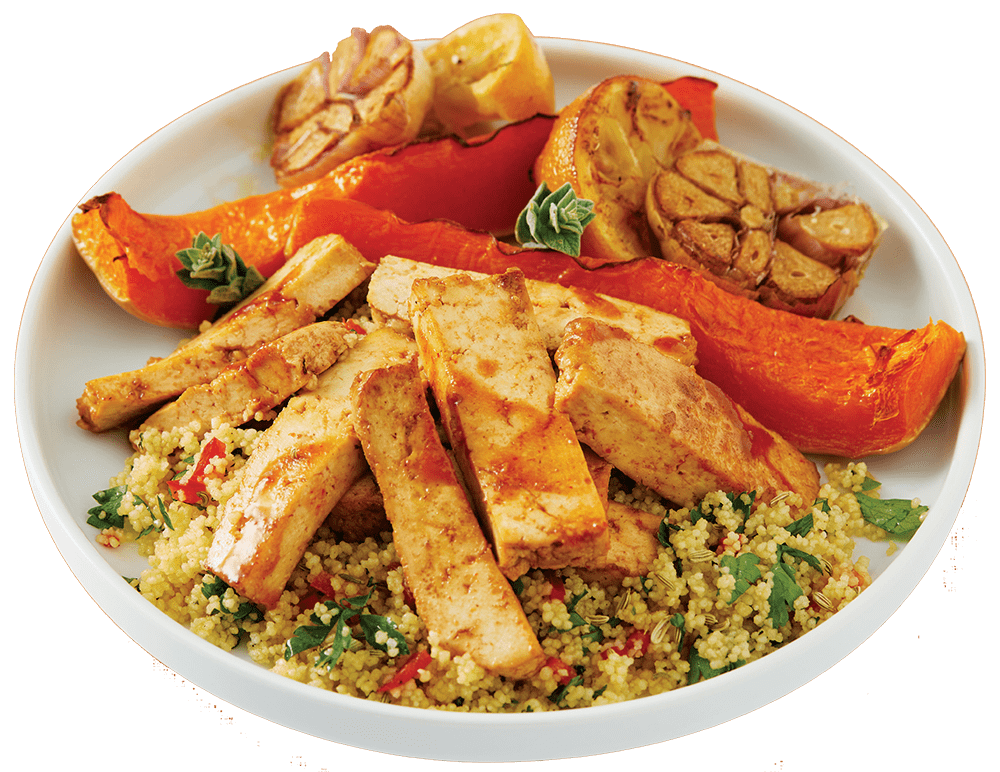 What is Tofu?

Tofu is made from soya bean curd and is one of the most complete and versatile protein foods in the world.

What is Clearspot Tofu?

Very simply soya beans, water & nigari.

We do not use any additives, preservatives, emulsifiers or stabilisers.

How is our Clearspot Tofu made?

Our actual recipe is a secret, but essentially our 100% organic soy beans are cooked, whizzed up to create soya milk and then nigari is gently stirred in to help form the bean curd. After this our tofu maker scoops the curd into a muslin cloth lined settling box, tops with a pressing lid and heavy weight and its left to rest for a while. During this time the curds are firmed and we ensure it is pressed for just the right amount of time to get just the right firmness and texture to our delicious tofu.

What can you do with it?

The answer is anything! Clearspot Tofu's delicate & subtle flavor makes it an incredibly versatile ingredient, and can be used in a wide variety of your favourite main dishes, desserts, soups, salads, dressings and dips.

All you need to do is experiment. For hints, tips & recipes click here

Can I eat Clearspot Tofu cold?

Yes you can enjoy Clearspot tofu straight out of the packet or cold in a dish.

Is Clearspot Tofu pasteurised?

Our Clearspot products are pasteurised to increase shelf life and reduce food wastage.

Is Clearspot Tofu organic?

Our soya beans are always 100% organic and we only use organic, natural ingredients. All of our products are accredited by the Soil Association.

Is Clearspot Tofu GM Free?

Yes, we only use GM Free soya beans in our tofu.

How long can I store once opened?

Once the Clearspot tofu is open, place in water in an airtight container and use within 48 hours.
Can I freeze Clearspot Tofu?

It's safe to freeze our tofu to enjoy later, however the freezing process may alter the taste and texture of the product.

What are soya beans?

Soya beans are pulses, a leguminous plant, similar to peas, lentils and beans.

They are known in China as "ta-tou" or "great beans".

Where are your soya beans from?

Here at Clearspot, our sourcing policy is rigorous - so only the finest beans will make it through our door.

Our soya beans have to be from a sustainable source, must always be organic and of course GM free. This is our bean guarantee. Our beans are certified by the Soil Association.

We source all our beans from Canada and Italy and are always on the lookout for sources closer to home, but we will only ever buy great tasting and sustainable beans.

Does your soy lead to deforestation?

We source our beans from Canada and Italy, and never from areas that lead to deforestation.

What is Nigari?

We use nigari to help turn soya milk into tofu.

Nigari is a natural ingredient which helps to turn the soymilk into curds. Nigari is the liquid that remains after natural sea salt is extracted from sea water.

Some other tofu manufacturers use Calcium Sulfate (an inorganic compound that is also used to make plaster of Paris), but we don't think that is right in food!

What is the calcium content?

As we use Nigari instead of Calcium Sulphate as our coagulant, there is only a trace amount of Calcium in our tofu - 87mg per 100g.

What are the benefits of Clearspot Tofu?

It is high in protein, whilst being low in calories, saturated fats and carbohydrates.

It is suitable for vegetarians and vegans and is GM free, wheat free and gluten free.

Can your packaging be recycled?

The cardboard from Clearspot packaging can be recycled, however the film cannot be currently recycled.

All of our cardboard is from approved, managed and sustainable sources. We are talking to our suppliers about the possibility of using recycled or renewable materials to replace our non-recyclable materials.

Why do you still use plastic?

In order to deliver a great tasting tofu that's safe to eat we package our tofu in thermoform plastic. Thermoforming uses a lot less plastic than alternatives however we're always looking for more sustainable and recyclable options.