Sweet and Sour Tofu
Serves 3
30 mins
Medium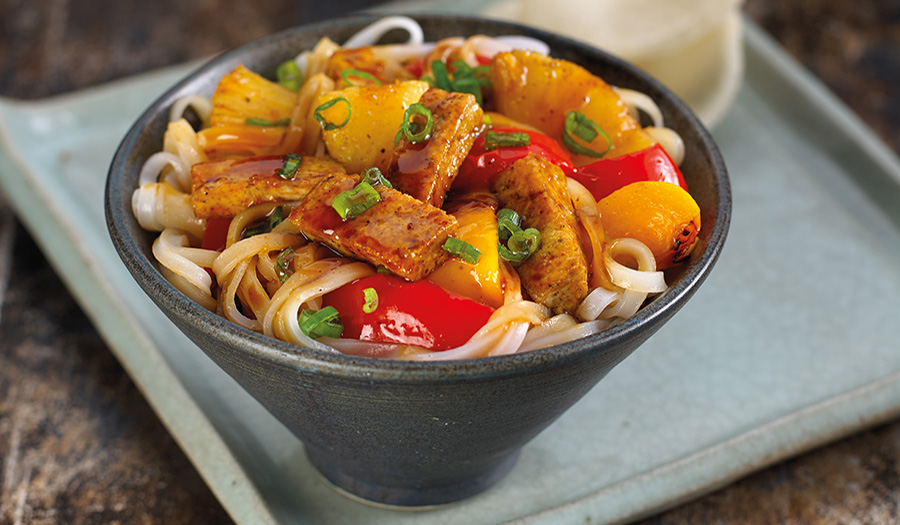 Ingredients
Main Ingredients
1 pack of Clearspot Oriental Flavoured Tofu
2 tbsp cornflour
1 tbsp cornmeal
2 tablespoons vegetable oil
1/2 green pepper, sliced
1/2 red pepper, sliced
2 carrots, julienned
1 tsp garlic, minced
1/2 teaspoon ground ginger
1 tsp sriracha
1 small tin pineapple pieces, juice reserved
1 tablespoon rice vinegar
1 tablespoon light brown soft sugar
Method
1. Drain the tofu and dry using thick kitchen towels. Replace wet towels and continue to dry for 10 minutes. Cut the tofu into 1 inch cubes.
2. Put the 1 tbsp of cornflour and cornmeal in a bowl and toss the tofu pieces in it until coated.
3. Heat a griddle pan on medium heat and add sesame oil. Place the tofu pieces on the pan in a single layer cook till browned nicely on all sides. Remove from pan and drain on kitchen towel.
4. In a small bowl, combine cornflour and soy sauce and mix together and keep aside.
5. To the pan add 1 tsp of oil and when hot add the peppers, ginger and garlic and cook on high for 3-4 minutes while stirring continuously.
6. Add the pineapple pieces and continue to stirfry for another minute. Add the soy sauce mixture, pineapple juice, vinegar, sugar, sriracha and soy pieces and bring to a full boil.
7. Serve over rice.