Original Tofu with Tray baked French Beans, Tomatoes and Olives
Serves 4
30 mins
Medium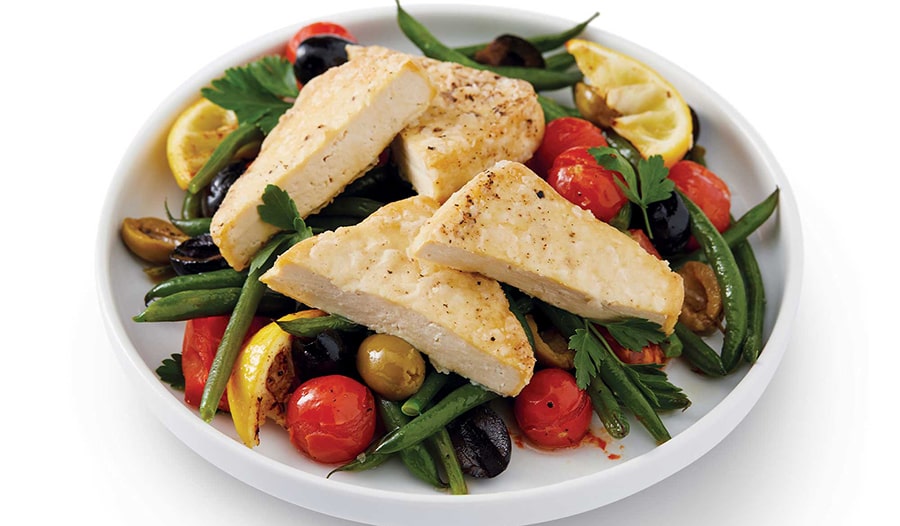 Ingredients
Main Ingredients
1 block Clearspot Original Tofu
1 pack of French beans, washed & trimmed
12 cherry tomatoes
4 salad tomatoes
100g mixed black & green olives
1 lemon
Seasoned flour for dusting.
Extra virgin olive oil
15 flat leaf parsley leaves
Method
1. Preheat oven to 190°c.
2. Cut your tofu block into 4 slabs. In a shallow bowl dust the tofu pieces in the seasoned flour.
3. Add the French beans and cherry tomatoes to a baking tray. Roughly chop the olives, quarter the salad tomatoes and slice the lemon and add them all to the tray. Season and pour over the extra virgin olive oil.
4. Now in a frying pan heat 4 tbsp of olive oil to a medium heat. Place in the floured slabs and fry until slightly golden on both sides.
5. Place the tofu on top of the veg in the tray and bake in the oven for 15 mins.
6. When done, cut the tofu pieces into 2 and serve out the veg with the tofu on top. Spoon over some of the cooking juices and sprinkle with the flat leaf parsley leaves.