Marinated Tofu Skewers with Tempura Vegetables
Serves 4
60 mins
Medium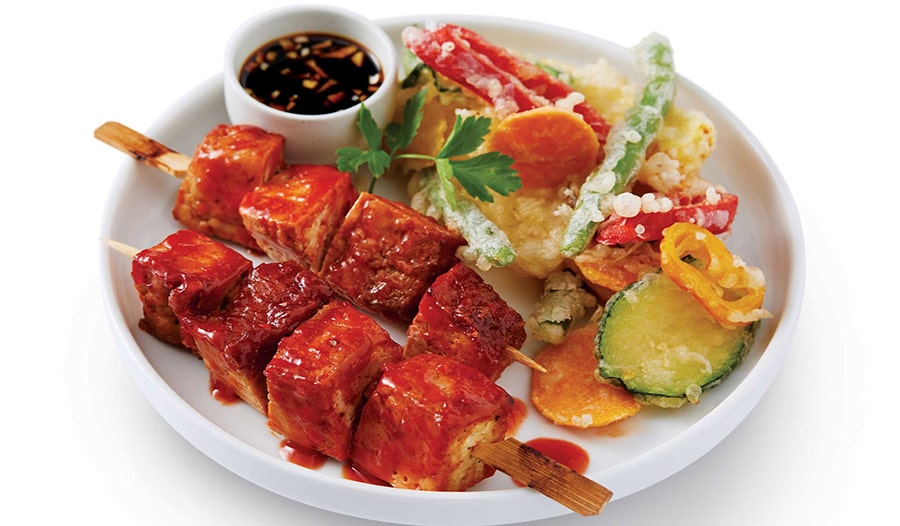 Ingredients
Main Ingredients
2 blocks Clearspot Marinated Tofu
8 baby corn, halved
1 courgette, cut thinly at an angle
1 sweet potato, peeled and slice very thinly
12 French beans, storks trimmed
1 Romano red pepper, cut into 10mm rounds with seeds removed
1 Romano yellow pepper, prepped same as above
800ml sunflower oil for deep frying
2 garlic cloves, finely diced
3cm ginger, finely diced
100ml soy sauce
For the Tempura Batter
45g plain flour
45g cornflour
1/4 tsp salt
1/2 tsp sugar
200ml sparkling ice cold water
For the Sweet and Sour Sauce
300ml fresh pineapple juice.
2 garlic gloves, peeled & grated
1 piece of fresh ginger, peeled & grated
1 tbsp soy sauce
2 tbsp white wine vinegar
2 tbsp soft brown sugar
3 tbsp tomato ketchup
1 pinch of dried chilli flakes
1/2 fresh beetroot
1 tsp of cornflour
Method
1. Preheat oven to 170°c.
2. In a small bowl mix 2 tbsp of pineapple juice with the cornflour and set aside.
3. Reserve a pinch of each garlic and ginger for the soy dipping sauce and then put all of the sweet and sour sauce ingredients in a small saucepan, stirring occasionally gently bring to the boil and simmer for 20 mins.
4. Heat your oil in a tall medium saucepan half filled with sunflower oil and brought up to 160°c (or use a deep fat fryer).
5. Mix all of the dry tempura batter ingredients together in a bowl and slowly whisk in the ice cold sparkling water. Toss all of the prepped veg in the tempura batter.
6. Working quickly and making sure your oil doesn't get to hot, take your marinated tofu blocks and cut each into 8 cubes, make up 4 skewers and place on a baking tray.
7. Now remove the half of beetroot from the sweet & sour sauce and whisk in the cornflour paste until thickened. With a pastry brush coat the skewered tofu with the sauce and bake for 10 mins or until piping hot.
8. Meanwhile mix your tempura battered veg and fry in batches keeping warm on another tray in the bottom shelf of the oven.
9. Mix the 100ml soy sauce with the reserved finely chopped garlic & ginger and put into ramekins.
10. On plates place one skewer and a good pile of the tempura veg and a ramekin of dipping sauce. Brush each skewer with more of the beetroot sweet & sour sauce, garnish and serve.