Soy Glazed Oriental Tofu with Buckwheat Noodles
Serves 2
40 mins
Easy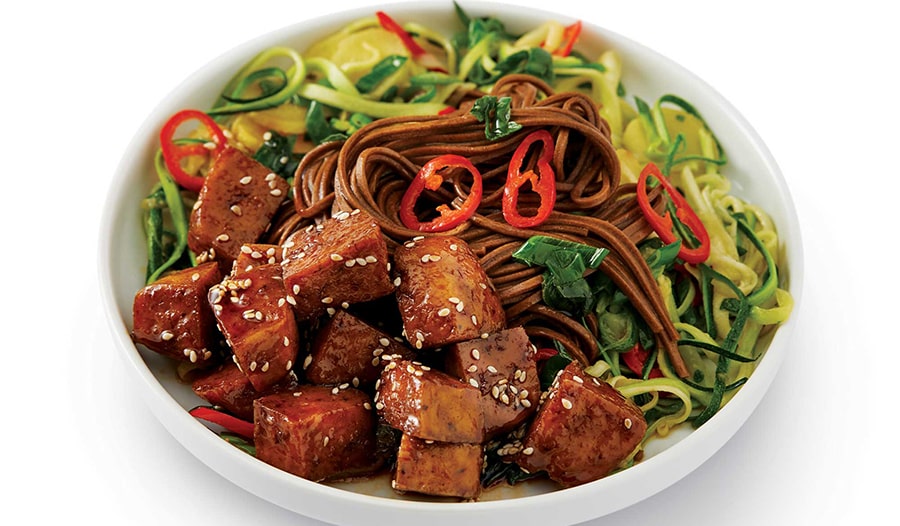 Ingredients
Main Ingredients
1 pack Clearspot Oriental Tofu
100g buckwheat noodles
2 spring onions, washed and chopped
2" ginger, peeled and sliced
2 red chillis, sliced
1/2 courgette, julliened
For the Soy Glaze
200ml dark soy sauce
2 tbsp soft brown sugar
2 tbsp white wine vinegar
1 tbsp white sesame seeds
Method
1. Add all of the ingredients for the soy glaze (apart from the sesame seeds) to a small saucepan, put on a low heat. The idea is to reduce it by about half very slowly this will make it thicker and sticky and delicious, so take your time.
2. When the soy reduction is almost done bring a pan of water to the boil, salt the water and put in your buckwheat noodles. Simmer until cooked.
3. Now heat 3 tbsp of oil in a frying pan and add your ginger, fry for 2-3 mins and add the chilli, courgette and spring onions,
4. Cut your Oriental Tofu into cubes and add them to soy glaze. Turn up the heat and add the sesame seeds, stirring until it coasts the tofu completely. Continue to stirring to warm the tofu for around 5-7 mins.
5. Once hot drain the noodles and serve into shallow bowls then add the veg to the bowls and then the sticky soy tofu.