Spicy Tomato Tofu Sausages with a Three Bean Cassoulet
Serves 2
45 mins
Medium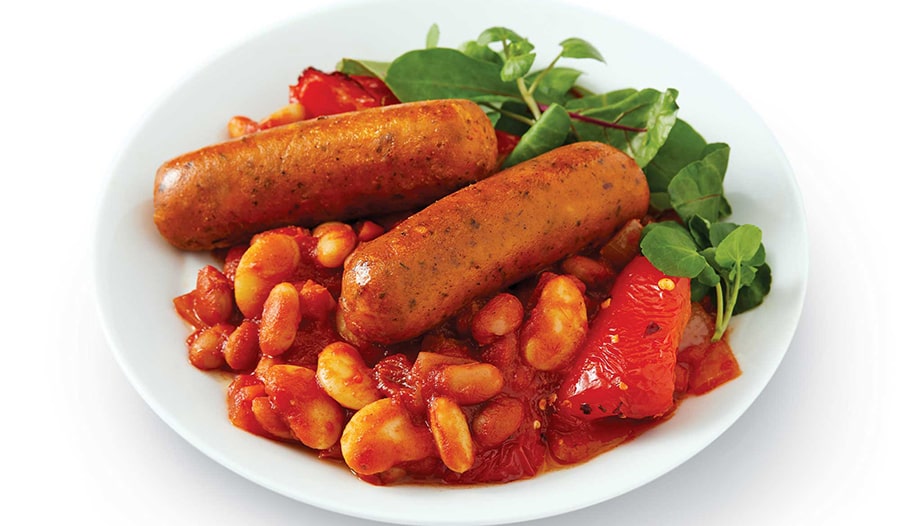 Ingredients
Main Ingredients
1 pack Clearspot Spicy Tomato Tofu Sausages
400g cannellini beans, washed & drained
400g butter beans, washed & drained
400g berlotti beans, washed & drained
400g plum tomatoes
200g passata
2 tbsp tomato purée
2 medium sized onions, diced
1 tbsp soy sauce
15g demerara sugar
2 tbsp red wine vinegar
1 pinch chilli flakes
2 red bell peppers, halved, deseeded and stalks removed
Olive oil
1 pinch chilli flakes
Salt pepper
Salad leaves to serve
Method
1. Preheat oven to 180°C.
2. Heat the oil to a medium heat in a large saucepan. Add the onions along with a pinch of salt and pepper and cook for a few minutes until soft.
3. Now add in the sugar and caramelise. Add the tomato purée and keep stirring until it just starts to catch, now deglaze the pan with the red wine vinegar and add in the plum tomatoes and passata, the chilli flakes and soy and season once more.
4. Add the beans to the pan, stir, reduce the heat and with the lid on simmer for 40 mins.
5. After 20 mins of the cassoulet cooking start on the roasted red peppers. On a baking tray oil and season the red peppers and skin side up sprinkle with chilli flakes and bake for 20 mins.
6. Add a splash of vegetable oil to a frying pan and cook the sausages on a medium heat (turning occasionally) until nicely browned. Transfer the sausages into the oven and bake for the final 7 minutes with the peppers.
7. Plate up your cassoulet, sausages and peppers, serve with some salad leaves.