Smoked Tofu Sausages with Mac & Cheese
Serves 2
60 mins
Medium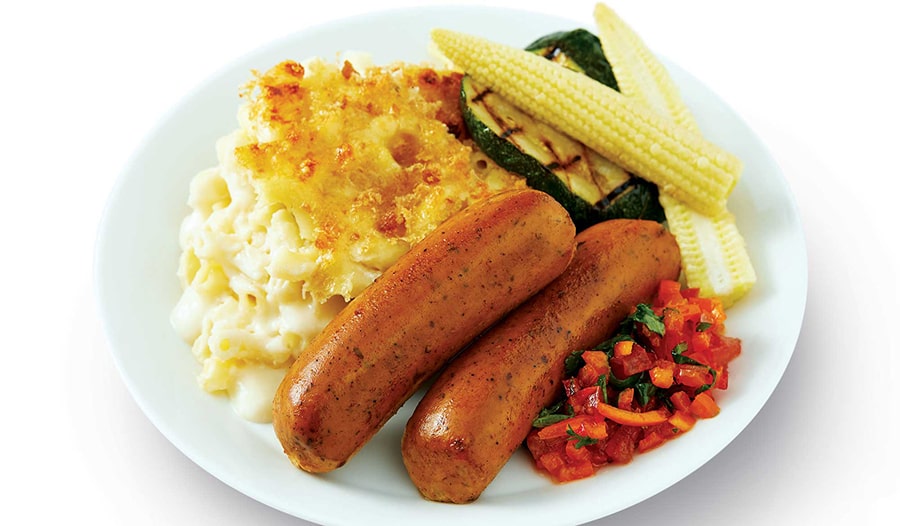 Ingredients
Main Ingredients
1 pack Clearspot Smoked Tofu Sausage
1/2 courgette, cut to 10mm slices
8 baby corn, halved
120g macaroni pasta
60g cheddar cheese, grated (or vegan alternative)
20g Parmesan, finely grated (or vegan alternative)
25g plain flour
25g butter
300ml milk
4 tbsp fine brown breadcrumbs
Sunflower oil
For the Orange Pepper Salsa
1/2 orange pepper, diced
2 salad tomatoes, quartered, deseeded and diced
1 tbsp tomato ketchup
2 tbsp chopped coriander
Method
1. Preheat oven to 180°c.
2. Bring a pan of salted water to the boil, add in the macaroni pasta until just under done (12-14 minutes).
3. Heat the butter in a small saucepan on a medium heat and gently melt. Now add the flour and stir until completely combined. Slowly add in the milk while whisking to keep it moving. Add the cheddar and parmesan and whisk until the cheese has melted and season to taste.
4. Drain the pasta and add to the cheese sauce. Add to an oven save dish and top with a little more Parmesan and an even sprinkle of breadcrumbs. Bake in the oven for 18-20 mins.
5. In a small saucepan of boiling water add your baby corn and courgette and simmer for 10 mins. Use a griddle pan to add colour to your veggies if you wish.
6. Mix the salsa ingredients together, season and put to one side.
7. Meanwhile in a frying pan heat the oil to a medium heat and place in the Smoked Tofu Sausages turning occasionally for ten minutes, transfer into the oven to ensure they are piping hot (about 7 minutes).
8. On a plate divide the Mac & Cheese, vegetables Smoked Tofu Sausages. Finish with a spoonful of the red pepper salsa.