Cumberland Tofu Sausages Red Wine Gravy with Parmentier Potatoes
Serves 2
40 mins
Medium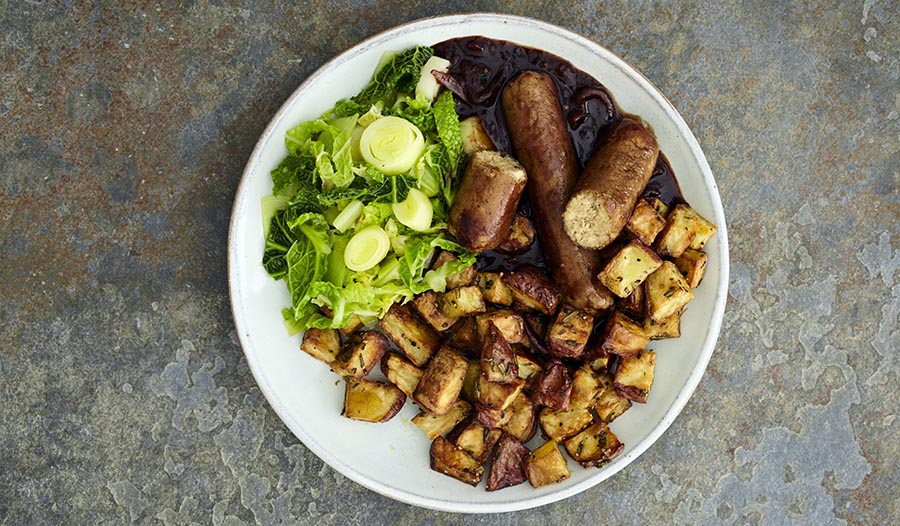 Ingredients
Main Ingredients
1 pack of Clearspot Cumberland Tofu Sausages
2 large potatoes
Handful fresh rosemary
Olive oil
1 red onion
2 cloves garlic
2 tbsp caramelised onion chutney
2 tbsp dark soy sauce
1 tbsp plain flour
300ml vegetable stock
200ml red wine
To Serve
Method
1. Preheat the oven to 180°C/200°C fan.
2. Dice the potatoes and place on a roasting tray. Pick the leaves from the rosemary and finely chop.
3. Add half the rosemary to the potatoes along with a drizzle of olive oil and salt and pepper.
4. Bake in the oven for 30 minutes until golden and crispy.
5. Heat a deep frying pan and add a glug of olive oil. Brown the Tofu Sausages for a couple of minutes on all sides until browned then put to one side.
6. Peel and dice the onion and garlic then add to the pan with the remaining rosemary.
7. Cook until caramelised then add the onion chutney and dark soy sauce. Cook for a couple of minutes then add the plain flour.
8. Mix well and cook for a minute, then add the red wine.
9. Reduce for a few minutes then add the veg stock and browned Tofu Sausages.
10. Cook until the gravy has thickened then serve with the parmentier potatoes, and your favourite green veg.