Smoked Tofu Sausages Apple and Cider Casserole
Serves 2
45 mins
Medium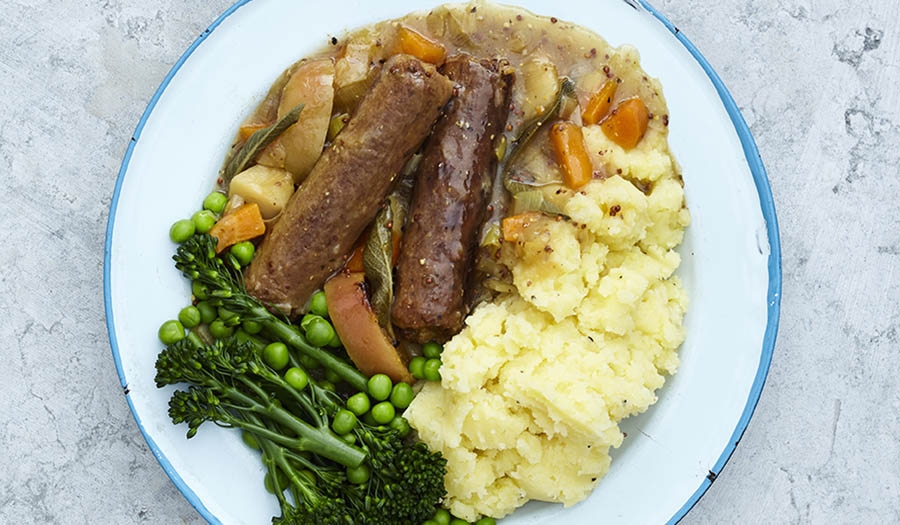 Ingredients
Main Ingredients
1 pack Smoked Tofu Sausages
2 medium carrots (peeled and diced)
2 trimmed leeks (washed and sliced)
2 parsnips (peeled and diced)
1 apple (cored and cut into slices)
300ml cider
2 tbsp olive oil
2 tbsp wholegrain mustard
200ml vegetable stock
1 tsp Marmite
1 tbsp cornflour
To Serve
Mash potatoes with truffle oil
Method
1. Preheat the oven to 200°C/180°C fan.
2. Heat an oven proof deep sauce pan (or normal saucepan) on the hob, then add the oil, carrots, leeks and parsnips.
3. Cook for about 10 minutes until softened.
4. Add the cider and wholegrain mustard and heat for about 5 minutes to reduce the cider.
5. Add the vegetable stock and Marmite and cook for another 5 minutes.
6. Mix the cornflour with a splash of water. Add to the casserole to thicken. Mix well.
7. Take the pan off the heat and if your pan isn't oven proof, transfer the casserole to an oven proof dish.
8. Boil and mash the potatoes.
9. Top with the Tofu Sausages, apple slices and sage leaves and place in the oven, uncovered for 15-20 minutes.
10. Serve with mash potatoes and sage leaves.